Bobby Iacaboni
---
Service Advisor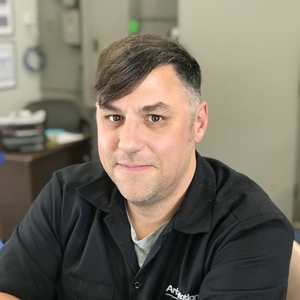 How did you choose your profession?
It chose me.
What was your first automotive job?
A technician at a motorcycle dealership in 1995.
How long have you been doing what you do?
23 years.
What certifications do you hold?
State of Michigan Master Motorcycle mechanics license. Through school – Autoservices, Autobody, Motorcycle Technology.
What is the weirdest thing you have found in a car during a job that should not have been there?
Smelly socks.
What are you known for professionally? What do you have a knack for?
Rebuilding motorcycle transmissions.
What are you most passionate about professionally? What most excites you about your work & the contribution you can make?
Helping people make informed decisions.
What are you passionate about personally? What do you really enjoy? What can't you stop talking about?
Cooking.
Where can we find you when you're not working? What's your favorite way to spend a weekend or a Sunday afternoon?
Road trips to zoos, museums and spending time with family.