Emily Martin
---
Customer Service Specialist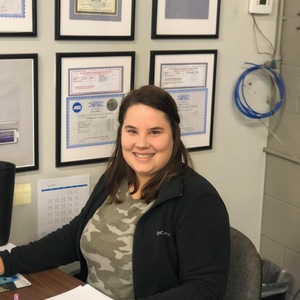 How did you choose your profession?
My amazing boss Jill Wagner and her husband, John (a shuttle driver for Arbormotion) let me know of an opening at Arbormotion and helped get the gears moving. The rest is history!
What was your first automotive job?
Arbormotion is my first automotive job!
How long have you been doing what you do?
Since mid 2018.
What certifications do you hold?
I have an Associates degree in Liberal Arts and a Bachelors degree in Art History and Fine Arts.
What unique challenges and rewards come from working on import vehicles?
Seeing as this is my first Automotive Job, I am looking forward to learning more! Especially since I recently just purchased my first car on my own.
What is the weirdest thing you have found in a car during a job that should not have been there?
Never having worked on a car, I would have to say nothing. But hearing the stories from my fellow coworkers is enough to make sure I hope I never find anything!
What are you known for professionally? What do you have a knack for?
My family might not believe this, but I am hyper-organized. I take meticulous notes and keep a schedule so that if anyone needs anything I can quickly help them out.
What are you most passionate about professionally? What most excites you about your work & the contribution you can make?
I love working with the customers; talking to them on the phone, creating their appointment. The customers are what make jobs like this fun and interesting everyday.
What are you passionate about personally? What do you really enjoy? What can't you stop talking about?
I absolutely love to bake. Cupcakes, cookies, brownies, you name it. My family and friends love it all. It's a dream to open up my own bakery one day.
Where can we find you when you're not working? What's your favorite way to spend a weekend or a Sunday afternoon?
I love to spend the weekend with my family, friends and boyfriend. We frequent Ann Arbor almost every weekend, going to new restaurants, bars, festivals, etc.