Quinn Lamb
---
Certified Technician, Audi/VW Specialist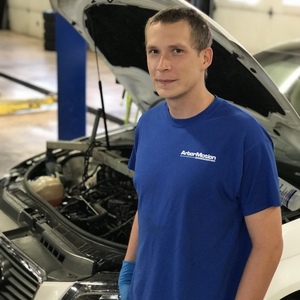 How did you choose your profession?
I grew up around cars. My dad had American muscle cars, mainly a Camaro, and spent a lot of time at Milan Dragway. I was a lube tech at a dealership and it was a natural progression to become a technician from there.
What was your first automotive job?
I worked at Victory Lane Oil Change as a lube tech then became the Crew Chief there.
How long have you been doing what you do?
I have been a technician for 5 years.
What certifications do you hold?
I have State certifications in engine repair, suspension and steering, brakes, and HVAC systems. I have an ASE certification in Refrigerant Recovery and Recycling. I am also CPR certified.
What unique challenges and rewards come from working on import vehicles?
It is rewarding when I can use a forensic process to determine the cause of an unusual problem and finally fix it. For instance, I worked on a newer vehicle that was exhibiting strange symptoms. With a lot of patience and determination I discovered the underlying cause was a bent subframe.
What is the weirdest thing you have found in a car during a job that should not have been there?
The weirdest was a hole in the glove box and another that went into the floor panel on the same car. The holes turned out to be bullet holes.
What are you known for professionally? What do you have a knack for?
My perseverance and determination. If I'm presented with an unusual problem I continue working at it until I find the root cause of a problem. I want to fix that, not just take away the symptoms.
What are you most passionate about professionally? What most excites you about your work & the contribution you can make?
I strive for excellence. I enjoy being on the frontlines of technology. It is exciting to see how it is always changing.
What are you passionate about personally? What do you really enjoy? What can't you stop talking about?
Aquariums! I am currently breeding three different kinds of shrimp and have another large aquarium for fish. I am also interested in Aquaponics which uses fish and plants in the same closed loop system to nourish one another.
Where can we find you when you're not working? What's your favorite way to spend a weekend or a Sunday afternoon?
I am usually spending time with my family, working on my Jeep, or wood working.