Tom Neil
---
Parts Specialist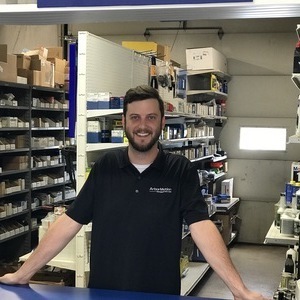 How did you choose your profession?
I have always loved cars and parts sales was a great way to get into the industry.
What was your first automotive job?
Counterman at a small-town auto parts store.
How long have you been doing what you do?
3.5 years.
What unique challenges and rewards come from working on import vehicles?
Every vehicle is engineered differently, especially the Swedish cars.
What is the weirdest thing you have found in a car during a job that should not have been there?
Mouse nest in a seat cushion.
What are you known for professionally? What do you have a knack for?
Accuracy and thoroughness.
What are you most passionate about professionally? What most excites you about your work & the contribution you can make?
Being efficient and improving my coworkers' experience.
What are you passionate about personally? What do you really enjoy? What can't you stop talking about?
Music, I love playing and conversing about music.
Where can we find you when you're not working? What's your favorite way to spend a weekend or a Sunday afternoon?
Spending time with friends, playing tabletop games, or playing music