Tyler Berry
---
Certified Porsche Technician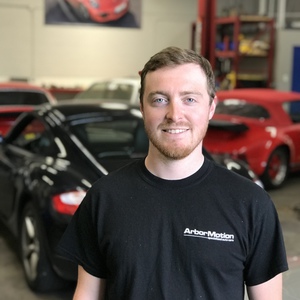 How did you choose your profession?
My profession kind of chose me. All through my younger life my father always had respectable cars so that had a huge influence on my interest. My senior year of high school my dad brought home a 1964 Chevy 2 Nova. That car was turned into a drag car considering the fact that not one body panel on the car was good! As my dad and myself put that together that was what really brought me to the mechanical side of things. My dad was always into older classic American cars and I wanted to be involved with something a little different. That's when I took interest in European cars which then turned into Porsche.
What was your first automotive job?
My fist automotive job was at an auto body shop doing prep work. I did some schooling for body work and paint but that quickly changed because of how repetitive that got.
How long have you been doing what you do?
I have been doing what i have been doing now for 2 and a half years with many more to come. I'm young and learning new things every day.
What unique challenges and rewards come from working on Porsche vehicles?
Porsche itself is a unique challenge. There aren't very many people that really want to be involved in working on Porsche simply because they are different. The real reward is being a Porsche mechanic.
What are you known for professionally? What do you have a knack for?
The real question is what do i want to be known for? Engines and transmissions. I'm still learning, my number of built engines and transmissions is going up and will continue to go up until that is what I'm known for. I have a knack for very precise repairs.
What are you most passionate about professionally? What most excites you about your work & the contribution you can make?
Professionally I am passionate about making proper and safe repairs. Not everyone likes dropping off their pride and joy for work to be done but then knowing that things are going to be done correctly and with care makes me feel good.
What are you passionate about personally? What do you really enjoy? What can't you stop talking about?
I am passionate for performance. I really enjoy seeing engines and cars working at their full potential. I enjoy hearing people's stories of how they chose the car that they chose and what influenced them to do the modifications that they did.
Where can we find you when you're not working? What's your favorite way to spend a weekend or a Sunday afternoon?
Outside of work you'll find me in doing many things. I make the most out of our seasons being on the lake doing water sports, up north with my dune buggy, in a river somewhere kayaking and fishing, or on a mountain somewhere snowboarding. I don't really have a favorite way to spend my weekends because it's usually something different every weekend.