Beata O'Brien
---
Finance Manager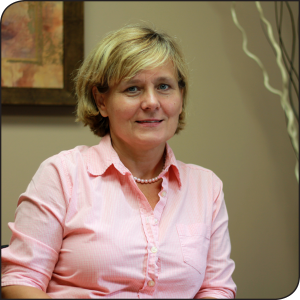 Beata is the glue that holds us together. While we're all concentrating on premier customer service, Beata is the one who watches the numbers at ArboMotion. Our main mission is to provide our customers with an outstanding experience, but of course the numbers are still very important as they are with any business. Beata makes sure we don't get too carried away … which in the long run keeps us healthy enough to always be here so we can provide you with great service.
How did you choose your profession?
I was working in Purchasing for a large company, and heard about a Financial Analyst opportunity. I was selected for the role and found it to be very interesting and challenging.
What was your first automotive job?
My first automotive job was with ArborMotion
How long have you been doing what you do?
I have been with ArborMotion for 7 years.
What certifications do you hold?
I hold two Master's degrees in Liberal Arts.
What are you known for professionally? What do you have a knack for?
I am able to look at financials and point out areas where we can improve.
What are you most passionate about professionally? What most excites you about your work & the contribution you can make?
I am passionate about creating and implementing financial plans and seeing the positive results.
What are you passionate about personally? What do you really enjoy? What can't you stop talking about?
I am very passionate about figure skating and music.
Where can we find you when you're not working? What's your favorite way to spend a weekend or a Sunday afternoon?
Skating at the Ann Arbor Ice Cube or playing piano.
ArborMotion: Foreign Car Repair in Ann Arbor You Can Trust.
At ArborMotion, we specialize in foreign car repair in Ann Arbor. All our technicians are ASE certified and three have ASE Master Technician certifications. If you want a reputable technician who specializes in your brand of vehicle, schedule an appointment with us today