Ed Sikorski
---
Driver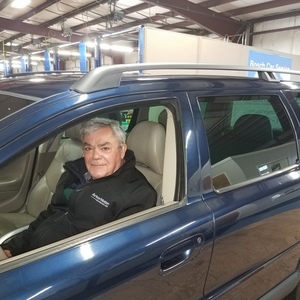 Ed Sikorski works as a driver at ArborMotion.
How did you end up driving?
I'm retired and wanted a part-time job where I could interact with people.
What was your first automotive job?
This is my first auto related job.
How long have you been doing what you do?
I have been driving for ArborMotion for 2 years. Before that I practiced law for over 40 years.
What certifications do you hold?
JD University of Detroit, Certification in International Law (London)
US Coast Guard-Merchant Marine
Certification in Marine Insurance
What unique challenges and rewards come from working at ArborMotion?
I enjoy engaging with our customers. Each one is different and every ride is a new experience. I find navigating Ann Arbor traffic during rush hour and avoiding construction zones challenging.
What is the weirdest experience you have had while driving?
Gaining access to restricted areas to pick up and drop off customers, such as the Ann Arbor Airport.
What are you known for professionally? What do you have a knack for?
I'm very thorough and follow up with every assignment. I am also a mediator and put the listening skills I have gained to use while transporting customers.
What are you most passionate about professionally? What most excites you about your work & the contribution you can make?
I enjoy resolving conflict and the resolution that comes from it.
What are you passionate about personally? What do you really enjoy? What can't you stop talking about?
Boating. I enjoy spending the day on the water fishing. I also hunt.
Where can we find you when you're not working? What's your favorite way to spend a weekend or a Sunday afternoon?
I spend most of my time off with my family, especially my 4 grandchildren. And on the boat, of course.