Mark Newbound
---
Master Certified Service Technician Volvo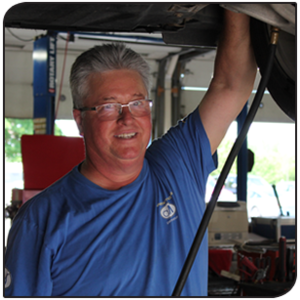 How did you choose your profession?
Mechanical things have always been interesting to me
What was your first automotive job?
I worked at a gas station when I was in high school.
How long have you been doing what you do?
For over 40 years now!
What certifications do you hold?
ASE master technician
What unique challenges and rewards come from working on import vehicles?
Import vehicles can be very technical so finding and repairing a difficult problem is very rewarding.
What is the weirdest thing you have found in a car during a job that should not have been there?
I found a cat under the hood of a car. When the cat realized it had been discovered it ran for the door never to be seen again. This happened after I gave the car a good test drive!
What are you known for professionally? What do you have a knack for?
Good communication about needed repairs.
What are you most passionate about professionally? What most excites you about your work & the contribution you can make?
Making a customer feel that they can trust me to do excellent work and give them good value for the money they spend with us.
What are you passionate about personally? What do you really enjoy? What can't you stop talking about?
See next question.
Where can we find you when you're not working? What's your favorite way to spend a weekend or a Sunday afternoon?
I enjoy getting together with family and friends. I play golf almost every weekend and I also play drums in a band.