Steve Tinkle
---
Driver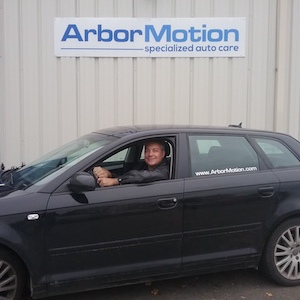 Steve Tinkle works as a Shuttle Driver here at ArborMotion.
How did you choose your profession? (end up driving for AM)
I was looking for a part-time job close to home. I love cars, driving, and people—this job was a perfect fit!
What was your first automotive job?
My very first job was working at a small-engine repair shop—I was 13. We didn't work on cars, but I got to tear apart and fix a lot of broken lawn mower engines!
How long have you been doing what you do? (ArborMotion and Previous)
I've worked for ArborMotion 2 years now. Prior to that I spent 30 years as an Information Technology professional specializing in application/software development.
What certifications do you hold / held?
Two college degrees—Bachelor's Degree in Computer Information Systems and a Master's Degree in Business (MBA). Both degrees are from Eastern Michigan University. Oh, and one marriage certificate… ?
What unique challenges and rewards come from working on import vehicles? (or at Arbormotion)
I enjoy being part of the customer-service team. It's nice to chat with the customers about their vehicles/service—and whatever else is on their minds! Challenges—it's fun to find short-cuts around town to avoid traffic congestion (especially during rush hours).
What is the weirdest thing you have found in a car during a job that should not have been there? (or hauled or conversation/experience)
There's a saying — "It's a small world", and this is really evident in conversations I have with our customers. Often, I meet a customer who knows someone I know or that I have something else in common with. Of course, I've been in the Ann Arbor area for 50 years—that might have something to do with it as well!
What are you known for professionally? What do you have a knack for?
Courtesy and kindness (I hope)—and exceptional driving skills of course!
What are you most passionate about professionally? What most excites you about your work & the contribution you can make?
Our customer base is very diverse and have interesting backgrounds and experiences—I really enjoy getting to know them. As a shuttle driver, it's nice to be able to at least remove the "transportation hassle" involved in bringing a vehicle in for service.
What are you passionate about personally? What do you really enjoy? What can't you stop talking about?
Family and friends. Also, I love music, traveling, nature, motorcycles, cars, and technology.
Where can we find you when you're not working? What's your favorite way to spend a weekend or a Sunday afternoon?
Working around the house, playing my guitar, walking/hiking, taking a motorcycle ride, or enjoying lunch/dinner (and perhaps a craft beer) somewhere in the area.