Meet Joe Planck - ArborMotion Monthly Team Member Spotlight
---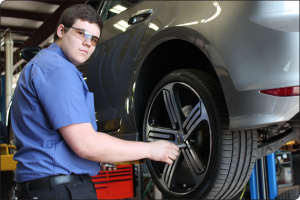 Joe Planck works in Rennstatt as a Porsche Technician at ArborMotion.
How did you choose your profession?
I love cars and learning about them and I like solving problems. I knew an office job was not for me so it was a perfect fit to become a technician.
What was your first automotive job?
I was a maintenance tech and accessory installer at a Buick GMC Dealership.
How long have you been doing what you do?
3 years
What certifications do you hold?
I am state certified in steering and suspension and electronics and electrical systems.
What unique challenges and rewards come from working on high-end vehicles?
The prestige that comes with working on the Porsche brand presents its own unique challenges. There are not many technicians that work solely with Porsches, so being a Porsche Specialized Tech carries a lot of value for the longevity of my career. As Porsche now spans 50 plus years of production, and many older models coming out of storage and gaining in popularity and value, it gives me a wide range to work on. There is the added benefit of the Porsche Culture which brings its own great reputation with it.
What is the weirdest thing you have found in a car during a job that should not have been there?
One time I found an open container of alcohol – Mike's Hard Lemonade.
What are you known for professionally? What do you have a knack for?
I enjoy working with aftermarket car audio systems and am known for having a loud system.
What are you most passionate about professionally? What most excites you about your work & the contribution you can make?
I like learning new techniques and being able to apply the things I have learned to other situations – to be able to repair a wide variety of mechanical objects.
What are you passionate about personally? What do you really enjoy? What can't you stop talking about?
I am passionate about older, full body rear wheel drive B-Body GM cars. I also like cats!
Where can we find you when you're not working? What's your favorite way to spend a weekend or a Sunday afternoon?
I often spend my lunch at the thrift store finding unique and odd gifts for my co-workers!